Convertible Fabric Top Care
I was going to post this in a few days or next week but after talking with a friend of mine (who just purchased a new ragtop today) I was inspired to type the rest up and post it now. The photos and video in this article have been pulled together from different details and dates. Some of them have been posted before and some have not.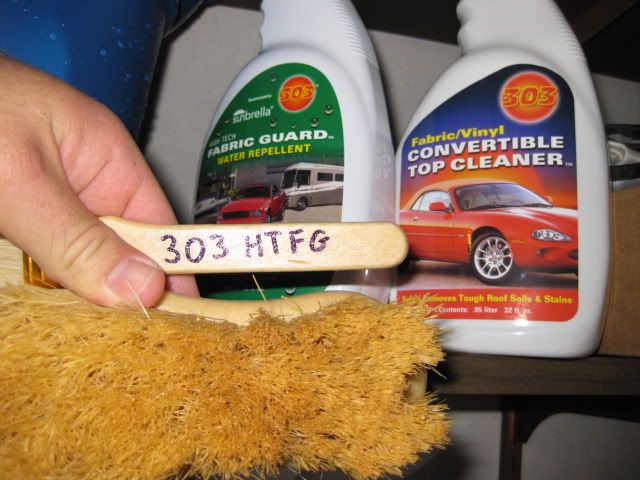 A properly sealed top is a good idea for many obvious reasons. Once properly sealed it is quite simple to wash and care for your fabric top. When washing a properly cared for sealed fabric top a regular car wash solution is all that is needed. Coupled with a proper brush such as Tampico or horsehair gentle brushing is all that's needed.
From my experience on a properly cared for and garaged vehicle protection can last over a year. I strip and re-seal it at least once a year. However if your vehicle is not garaged kept and/or sees a lot of sun or exposure it would be advisable to do this more often. I have not had the opportunity to study a fabric top that sits outside everyday but I would guess +/-3 months should be achieved. As always environmental factors can and will affect this estimate.
When the protection of your sealed fabric top is diminished it should be cleaned with one of the available fabric top cleaners as shown below.
Video: Preparation of Fabric Top for Sealing
Sealing Fabric Tops - PREFERRED METHOD - (No Video Currently Available)
My preferred method of applying a protectant like 303 High Tech Fabric Guard or Raggtop is to apply 3 very thin coats with a little time (15-20 minutes) in between each coat and allowing the final coat to completely dry as specified before allowing any moisture to contact it.
The product you are using to protect the fabric top can disperse as a fine mist and land on the paint or glass of the vehicle. When this happens it must be removed asap. Otherwise removing it after it hardens is much more trouble. The additional problem is you may not see everywhere these particles land until later. I tried to free spray the product on my vehicles fabric top a couple years ago and learned very quickly that I'll personally never do that again. This took place inside a garage with very little air movement and it still found its way onto unwanted areas. Ever since then my method has consisted of covering the glass and paint of my Sky with plastic and masking the vehicle up to the edge of the fabric before applying.
Sealing Fabric Tops – NON-PREFERRED METHOD -
Sometimes you don't have the luxury of working inside and covering/masking the vehicle. In the case where for one reason or another you can't or won't cover the vehicle you may try the methods shown in the video below. Just keep in mind that complete and even coverage will not be achieved in the same way as if you follow the preferred method of masking the remainder of the vehicle.
Video: IN A PINCH - Sealing Fabric Tops - NOT THE PREFERRED METHOD-
The video shown below is included to show the affect of water beading on a properly protected convertible fabric top. 303 High Tech Fabric Guard was used on this vehicle. Method of application was NOT the same as shown in the previous video. Instead product was applied with my preferred method for most complete protection and least risk of contaminating the paint.
Video: 303 HTFG Water Beading
Weather seals:
Protecting the weather seals of a ragtop vehicle is an important task. The most pressing reason is the sound dampening factor, which tops the list of obvious reasons you should care for your weather seals. When choosing a product for this task I haven't found a product better than Duragloss 531. A long time ago Jim sent me a sample of this product in an excellent bottle that aids in application. DG 531 has become my go to product on the seals around my top.
Picture: Product (Applicator bottle shown here not included from Duragloss)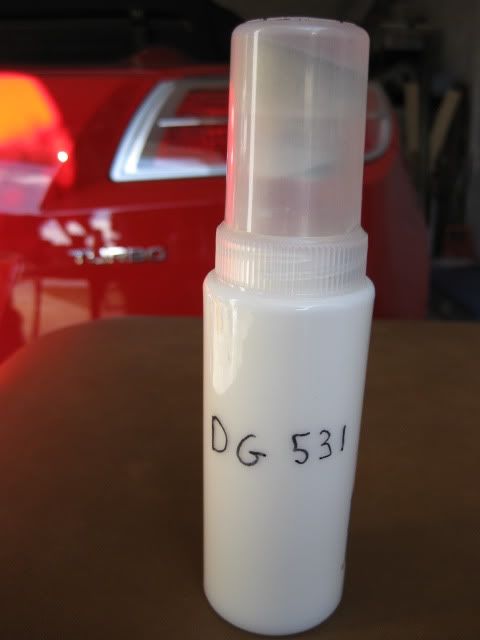 Picture: Product (Applicator bottle shown here not included from Duragloss)
Picture: Applying Duragloss 531 to the weather seals of Skybaby during preparation for Detail Fest 2011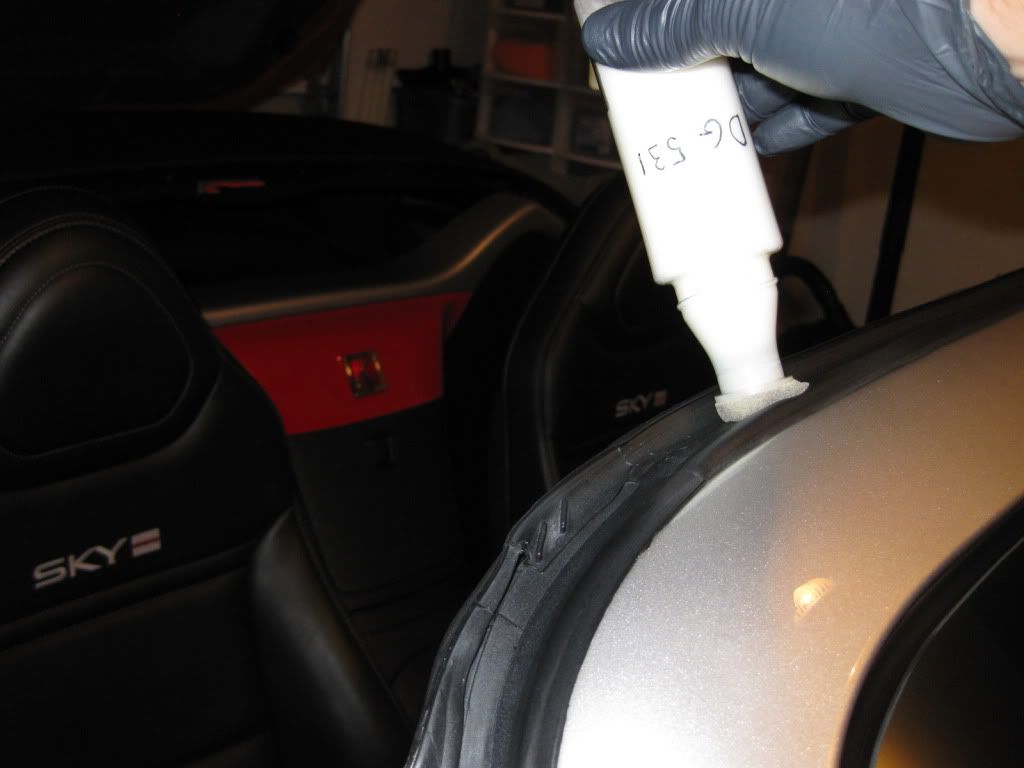 WHAT DOES DG 531 DO FOR OLD ABUSED SEALS???
Picture: Random picture I took from some old window seal where I used DG