Discussion Starter
·
#1
·
Hello SKY owners,
I am new to the forums and sadly enough, do not own a SKY and most likely never will. I think they are very sharp and as of now only a Ford Focus is sitting in my driveway..but thats another story.
To tell you a little about myself, my name is Kyle and I live in Schenectady, New York. I am 17 years old but my car story dates back into July of last year. I was looking for a car, never heard of the SKY upto about 3 months later and came across a few cars I liked. I wound up buying a new 2005 Hyundai Tiburon V6 out the doors for a little under $22k fully loaded besides sunroof. I always wanted a convertible but the only convertible in my price range was an 05 Eclipse and I personally hate em'. So I began modding my Tiburon which about $5k later still hasen't ended. I came acrossed the SKY on my own car forums (
http://www.newtiburon.com
) one day in "Other Cars" and fell instantly in love. If I was older and on my own, I would've looked into picking myself up one because I think they are absolutly gorgous, especially for the price but sadly I'm still a child. I have no idea what the future brings, maybe in a few years I may get a used SKY or new one if Saturn sticks with it. I will admit, I have never been a fan of Saturn till I saw the SKY in person at local small car shows and got to talk to the dealer about them. My family has previously owned Saturns and they just weren't reliable at all to the point Saturn wasn't even a car we'd look into, until now of course. My dads looking for a new car and I keep pointing him to the SKy but he seems to want a truck.:banghead:
But now, a Ford Focus (Which absolutly sucks all around) is in my driveway as my car is getting a Bodykit and Carbon Fiber OEM Hood installed since a guy drove up my car almost a month ago and should have my car back by the end of next week. *Fingers crossed*
So I decided to join your forums as I am a fan of the SKY and who knows what the future brings.
Heres a few pictures of my car...I will have to upload more next weekend when I get it back with the kit and hood on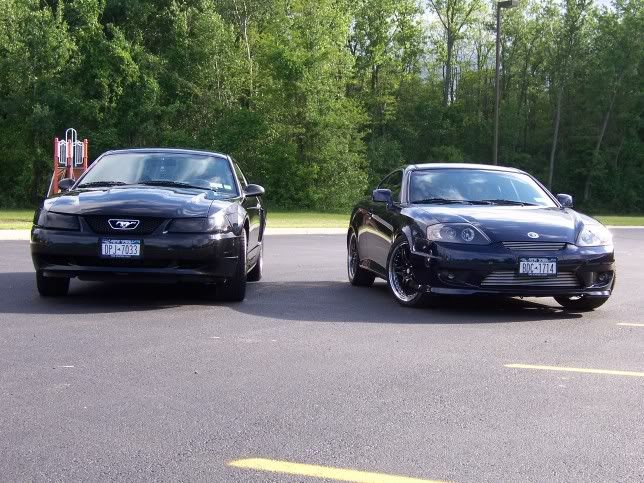 Mods:
->ARK N2 Dual Exhaust System
->ARK Vertical Lambo Door Kit
->ARK Black Billet Antenna
->2005 OEM Tinted Taillights
->(2) MTX 10" 7510 Series Subwoofers
->Rockford Fosgate P8002 Amplifier
->35% Tinted Windows
->Tuscani Rebadging (Wheels, Hood/Trunk, Steering Wheel)
->Dyansty Auto Red Chromed Cold Air Intake
->Tein S-Tech 1.6" Lowering Springs
->FlyRydes White Angel Eyes
->Zefiro Ronda Front Bumper
->Seibon OEM Style Carbon Fiber Hood
->AIWA CDC-X304 CD Player
->KMC SR5 18" Black with Polished Lip Wheels
->Painted Calipers
After the Accident: