Discussion Starter
·
#1
·
I just finished the install on my car of my Valentine 1. I have the detector mounted above the rear view mirror. I could not get the power to run off anything on the mirror, so I ran behind the trim to the fuse area in the passenger foot well. I hid a componant behind the glovebox that allows for a remote display. The Radar now turns on and off with the car (no door delay like the radio), as I tied it into the HVAC fuse.
I installed a remote display in the dead space area just to the right of the airbag status lights in the dash. There is plenty of room behind there, once I got it off the dash area. This allows me to have status lights, the boguey counter, band warnings etc, not visible to cars (or cops) behind me. The radar is still above the mirror, but it stays blank now. This also allows for me to silence the radar with the mute button on the remote display... which is now right next to where my hand is usually anyhow, on the gearshift (manual).
I was getting creative, so I also ran another microswitch mute button into the transmission hump and into the shifter boot itself. Now I can silence it without even moving my hand off the shifter... it is beneath the leather, just a couple inches below the chrome nob.
Here are some (bad) cell phone photos of the display install.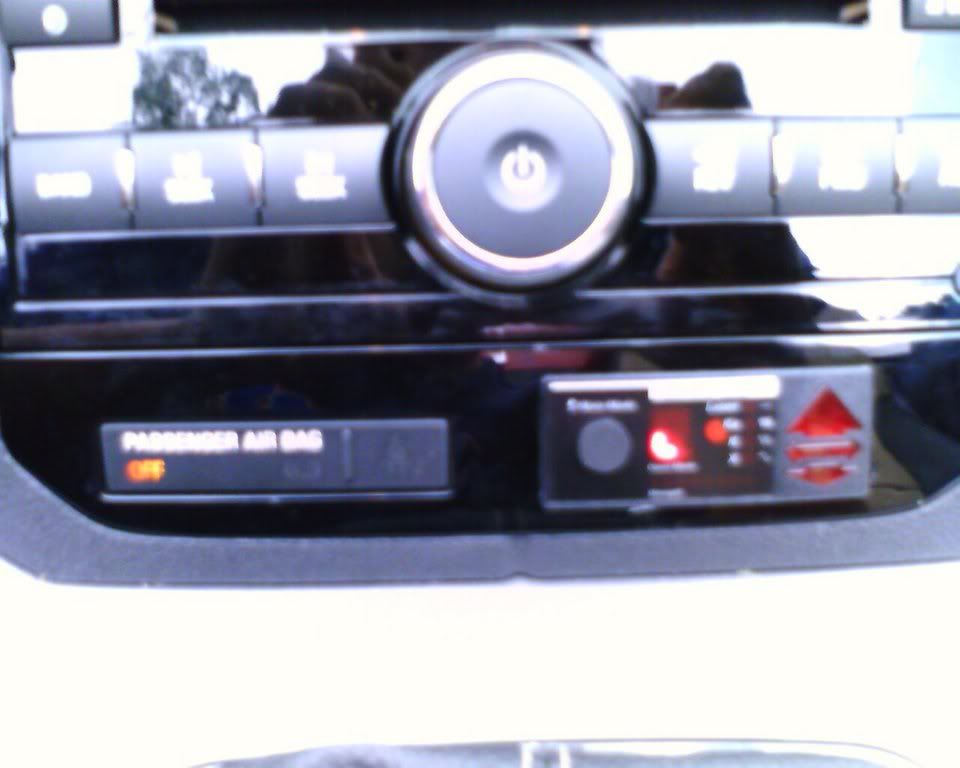 Yes it was scary cutting into the plastic part of the dash (with a dremel). I measured it over and over, checked for clearance of the tabs to the part, etc. Finally I did it, and it came out pretty nice, if I must say so myself (and I must). It is pretty flush, no exposed wires, and most people think it was always there.
I dont know how much that trim piece is, but I wrote down the part number (before I cut it off) in case I need to replace it someday. :thumbs:
If you want to take off this trim piece you do NOT have to pull off all the surrounding areas of the dash. It is held by 4 little clips in the plastic... I found this out after I had taken everything off. I fished the wires back through the dash with a hanger, and that seems to work fine. The ABS light display just clips into this part, so it is easy to remove too. :thumbs:
I just had to share, it is the first time I have done something like this without someone else having done it first. I already did the garage door mod with a button in the bottom of the dash, but this had the potential to really screw up the car. I was so proud of myself I dragged the wife out to look at my handiwork... she just nods and give me the "that's nice dear" line. She just does not appreciate this car as much as I do! Or maybe I am just too immature... hmmm
:jester: