This thread is to gauge interest in a product that my company is looking at producing. We are calling it a Semi-Permanent hardtop for your Sky roadsters. Why Semi-Permanent? Because of the effort involved with installing and removing it. Unfortunately, this is not a quick five minute project. But why would you choose our product over the factory removable hardtop? Since our top is a "Fastback" style of roof it is not only aesthetically pleasing it is also more aerodynamic than the factory top. Another bonus of our top is the added trunk space; with a fast back roof there is added area above the previously small trunk which effectively increases your trunk's size. Finally, it allows access to the trunk with the Hardtop installed, I don't know how the factory hardtop is going to work yet but I can't see how they can retain access to the trunk without removing the top!
Our kit would include all of the hardware necessary for mounting the new hardtop, all you provide is basic shop tools and some time (A few good friends is probably a good idea also). The mounting would consist of removing the factory trunk lid, and disconnecting associated wiring. Next you would loosely bolt on our top, align all the gaps, and tighten all the hardware. Then connect a few wires, latch the top at the windshield and you are ready to go! Not as easy as checking the oil, but it's not rocket science either!
Our kit can be personalized to meet your needs and your budget, anything from a just the necessities race car to a fully optioned street cruiser.
Here are your choices:
Fiberglass or Carbon Fiber
Thick or Thin skin
Hinged Glass or Fixed Lexan Rear Window
Soundproof it or go without
Color of Carpet, primer, or plain (Carpet is included with soundproofing)
Quarter windows for added visibility
Interior lighting (Dome and Trunk lights)
Color matched or Primer
We are also planning to do in house installation by request for about the same price as shipping. So if you are local, just drop your car off in the morning and pick it up that night! Or you can even stay and help if you want!
Price depends on options but here are a few examples:
Thin Fiberglass, Fixed window, no Soundproofing, no Quarter windows, and no Lights would be around $1,000
Thick Fiberglass, Hinged window, Soundproofing, Quarter windows, and Lights would be around $2,500
Thin Carbon, Hinged Window, Soundproofing, Quarter Windows, and Lights would be around $5,000
In an effort to find out exactly what style of Hardtop you want I have come up with three variations on the same theme:
Sorry about all the pics being of Solstices! I couldn't find a similar angle of the Sky that I liked, so for now I ask that you use a bit of imagination. I'll try to cook up a sky pic as soon as I can!
First is the standard fastback with a squared off termination at the rear valence. It also has quarter windows with a prominent B pillar.
Second version has a rounded termination much like what was shown on the solstice coupe concept. A rounded window like the concept could be done but at an increased cost.
Third is much like the first but with a larger, recessed rear window. The quarter windows have a "hidden" B pillar.
Forth is my personal favorite, however the added area and complexity would make it pretty much out of the question, however it's something to think about.
This is a factory inspired top which would allow access to the trunk. This is not currently being considered for production but if the fastback does well, who knows.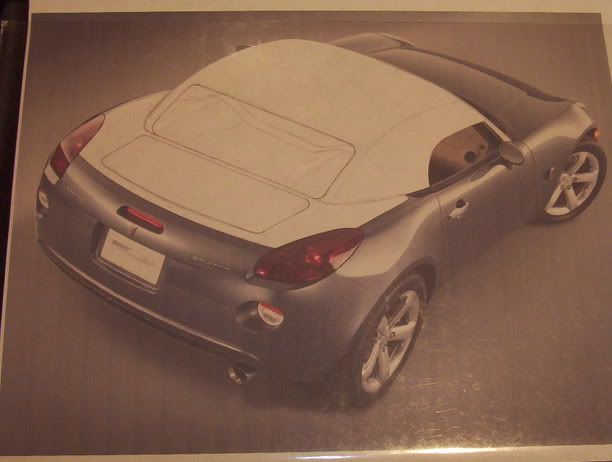 These two pictures were done by a fellow forum member, Stang. They show the hardtop from the side and also how the rear glass would be hinged to open allowing access to the trunk.
I would appreciate if you could spend a few minutes thinking this over and let me know what you like and dislike about our Hardtop, if you would be interested in purchasing a top kit from us in the future, and if you have any ideas for improvement. Any and all feedback is welcome. I would also like to hear any ideas you have on additional parts to personalize/upgrade your Sky!
Thank You,
–Dave Wells