Yup - The 5th one. Looks like the mod meet fever has finally begun to spread across the country. We held our first meet in July 2007, 2nd in September 2007, 3rd in April 2008, 4th in October 2008 where DDM Works and JPM came as vendors.
So as more information becomes available. I'll post on the Kappa Performance and Solstice Forum (pm me if you need a link to it)
Date: Memorial Weekend May 22, 23, 24
Where:
DeepBlueGXP's home "Joe's Garage".
Google Location -->
Google Maps
with address and contact info on link.
Time:
TBD
Local Accommodations
:
Bed and Breakfast Listing.
Solomons Bed and Breakfasts
Hotels:
Hotels - via google
Inns:
Inns - via google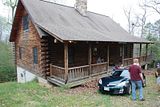 Eats in the area with in 4 miles:
Mexico, Moes Southwest Bar and Grill, Ledos Pizza, KFC/Taco Bell, BK, McDonald's, CJ's bar and Grill, Roy Rodgers, Chicken house, China King, Jake & Als Chop house, Boomerangs Original Ribs.
(Solomons Island - crab, steak, seafood) Naughty Gull, The Captains Table, Catamarans, Stoneys, The Pier
Pizza Delivery:
Donimos, Papa Johns, Pizza Hut
Coffee:
Starbucks, Dunkin Donuts, Fractured Prune
Drinks:
I'll have plenty of bottled water.
Food:
Saturday Pot luck, everyone is required to bring something, sign up for something on the list.
If you have a special need, i.e. vegetarian etc... you may want to bring it. (usually enough food left over to cover all day Sat and Sunday.)
Friday night is a pass the hat of possibly an outing. There is a great mexican place called Mexico I can reserve.
Veggie Platters
Sandwich Platters
Chip and Dip
Sodas
Beer
Paper products (plates, cups, napkins, plastic ware)
Anyting else you can think of, everyone needs to pitch in...
Platters can be ordered with a 24 hour notice from our local
Food Lion 11760 Hg Trueman Rd, Lusby - (410) 326-9361
Mods we can help you with:
You don't have to be doing a mod to your car to come. All are welcome but please sign up. (mod meet 4 we had 7 cars show up that didn't sign up.)
Mod Meet Vendors
DDMWorks:
Dave and Randy
Sign up on this thread. TBD
JPM
Joe and Alex
Sign up on this thread. TBD
Solo Performance
GOINGSOLO2 - Steve
After lunch we can take a tour through the Ranch Club Circuit Run, photo opp at the beach (about 2 miles from my house) and stop at the Solomon's Island Famous Tiki Bar.
Directions for the electronically challenged (non GPS users) Coming from the I495/95 Beltway
Exit 11, Route 4 South (45 minutes south of beltway)
Left on Rt 497 (Cove Point Road)
Right on H.G. Truman (Next Light)
Left on Town Square (Next Light) and then follow the directions for the Ranch Club.
Coming from Virginia via 301.
Right on Rt 234 (After crossing Harry W Nice Br. approx 5 miles)
In 19 miles you will merge onto Rt 5, continue for 3 Miles
Left on Rt 4 (continue for 13 miles)
Right on Rousby Hall Road (Lusby Town Square Sign, traffic light)
Left on H.G. Truman (next light)
Right on Town Square (Next Light) and then follow the directions for the Ranch Club.
Ranch Club
Right at Gunsmoke (Stop Sign)
Continue 1.5 miles (twisty road, be careful, go past lake on left)
Left on 2nd stree past lake, then stay to the left (short gravel road :sorry
3rd house on the left.
Car wash stuff available.