We all know that we own very special little roadsters. For many of us, "love at first sight" was certainly proven when we literally leaped across the void by purchasing the 2006 Solstice without having taken a single test drive. Some of us didn't even sit in the car until the delivery date! Talk about faith!
For those of you who may have missed the earlier threads on the solsticeforum, I'd like you to know that there is a new book about the entire Kappa experience. It's called
The Pontiac Solstice Book
and it was written by Gary Witzenburg, an exceedingly talented GM engineer/racer/writer. The book was published by Michael Lamm, a great guy and a supporting vendor of the solstice forum who has authored and published other automotive books.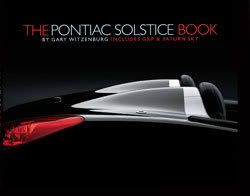 You may be thinking "I own a Sky. What do I want with a Solstice Book?"
The Pontiac Solstice Book
chronicles the journey of the Solstice, including the creation of its architecture - the Kappa platform. Additionally, the final chapter tells the story of your car – the Saturn Sky. There are eight chapters in all, 125 pages filled with fantastic personal experiences and plenty of outstanding photographs to pore over.
Currently on the boards you will find a Boxwood Plant inquiry thread. The number of people taking the poll illustrates to me that there is yet an insatiable hunger for information about the cars. We want to get as close as we can to its history; to personally see and feel "The Mecca" the birthplace of our truly unique roadsters.
Two years ago on the board, you could find an ongoing flurry of speculation about the production schedule and activity at The Mecca. This book answers all those questions quite definitively.
Chapter Five of The Pontiac Solstice Book is titled
"Putting It All Together"
. This chapter is 18 pages long and contains 20 beautiful photographs which were taken inside the Boxwood Road plant in Wilmington, DE. Included is a schematic of the plant and of course, the timeline of events. Dennis Dougherty, the plant manager, relates the experience in his own words. Since we are prohibited from taking pictures inside the plant, this book is a good way to continue with those memories.
You can purchase this excellent book for yourself and/or a friend through Mike Lamm's website, KappaSphere's website or from Amazon.
The links are provided below:
Lamm-Morada Publishing Co Inc -
www.lammmorada.com
KappaSphere -
www.kappasphere.com
Amazon.com Books -
http://www.amazon.com/gp/offer-listi...e=UTF8&s=books
__________________